Since the release of Systemas response of FCC's CNC gearbox and the reply from FCC regarding their product, I've decided to confirm each sides take of the gearbox and take a look first hand as a user.
Dayrith
from the forums was nice enough to provide this gearbox to test, FCC has made a video of their gears friction test against a Systema OEM gears so I will not be disassembling his gearbox.
FCC CNC Gearbox Video
http://www.youtube.com/watch?v=W1_bOH-QP0k
FCC Friction Comparison Test
http://www.youtube.com/watch?v=7xzEmbNZW74
FCC's Facebook
http://www.facebook.com/pages/Fight-Clu ... 9405958297
FCC's Website
http://ptwcustom.com/
FCC Completed Gearbox (Speed)- 420USD+Shipping
- Fine tuned and pre-set by FCC w/ six months guarantee (Parts Included)
- A6061-T6 CNC Machined Gearbox Case
- All Enhanced Steel lathe gear set
- CNC Race Trigger Included
First Impressions:
Nothing fancy about the packing, no damages or scratches to the gearbox. Right away you can tell the difference in weight between the two. On the top side of the gearbox FCC placed their logo and a unique serial number for the gearbox which provides organization for future times. The sector gears also has 'Fight Club Custom' on it which is a nice add on in my opinion.
As noted by FCC in their videos, their gears spin at a more smoother rate than the OEMs, I was able to confirm this.
Here's a link to their response,
http://arniesairsoft.co.uk/news2/38654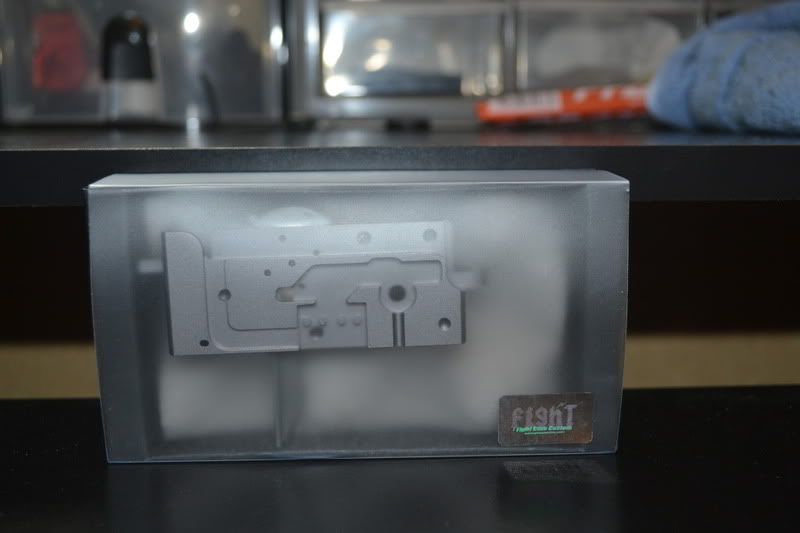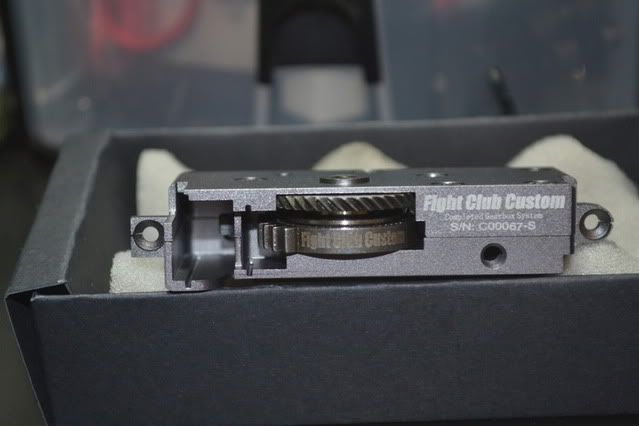 FCC CNC Gearbox next to a Systema OEM Gearbox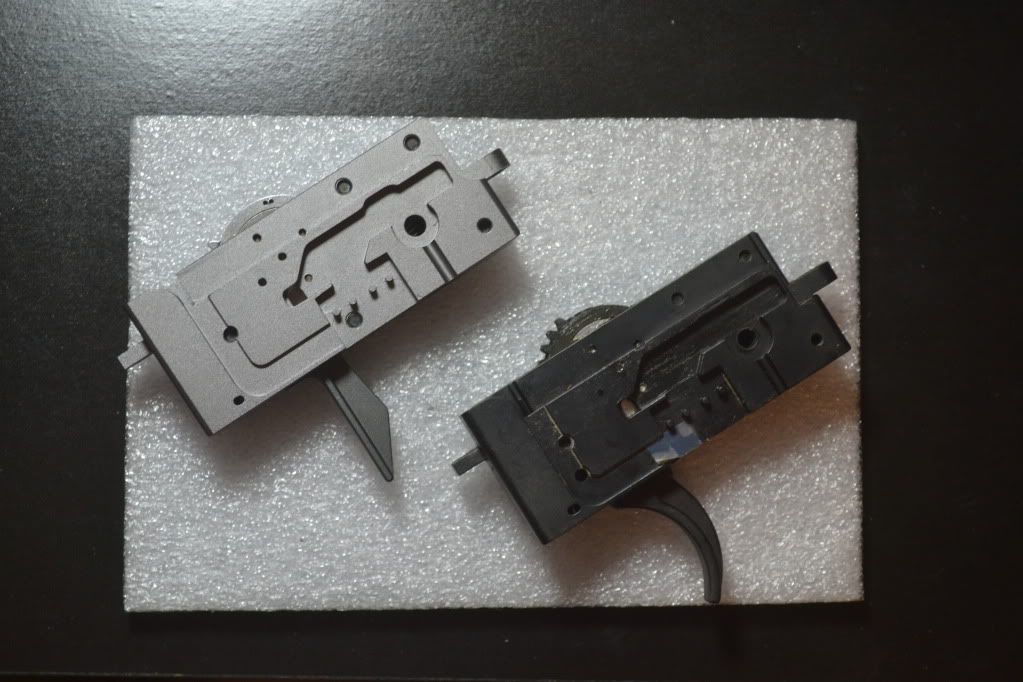 Some side by side comparisons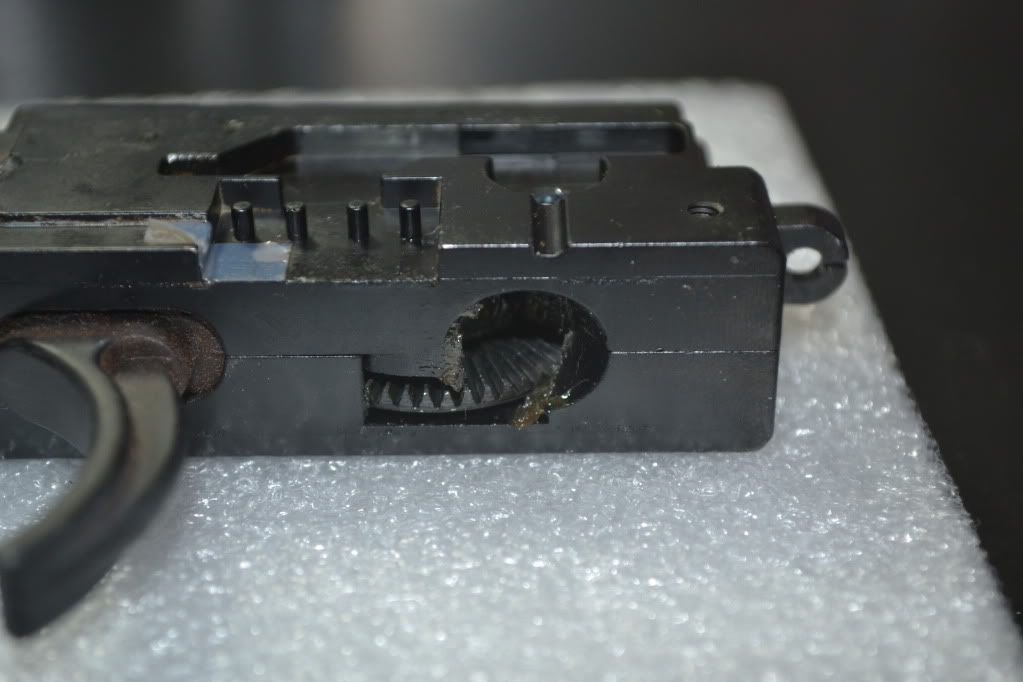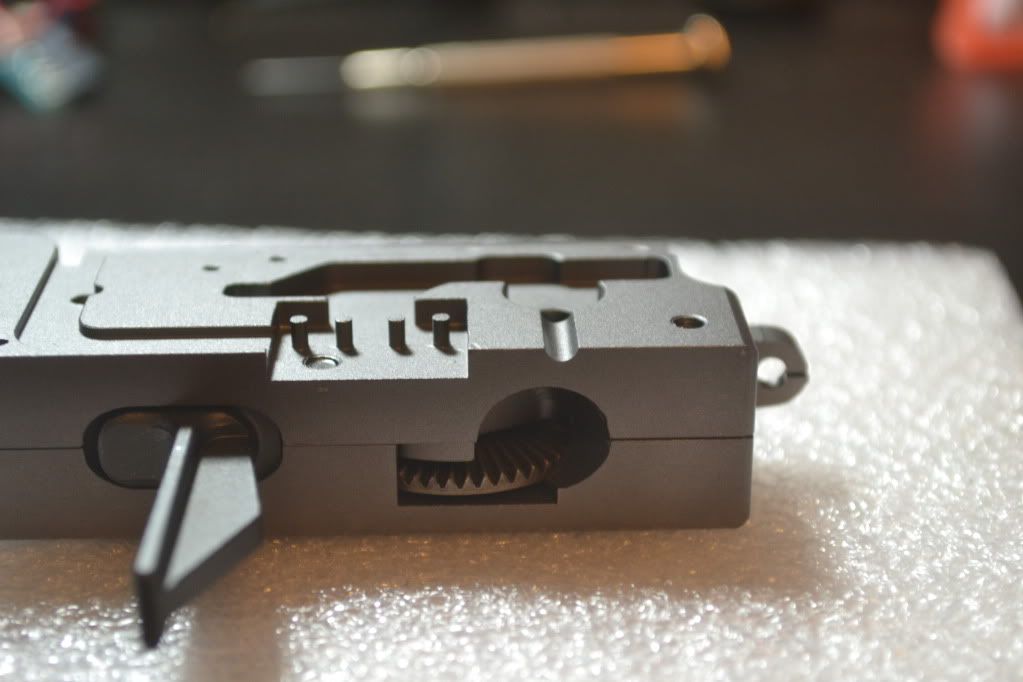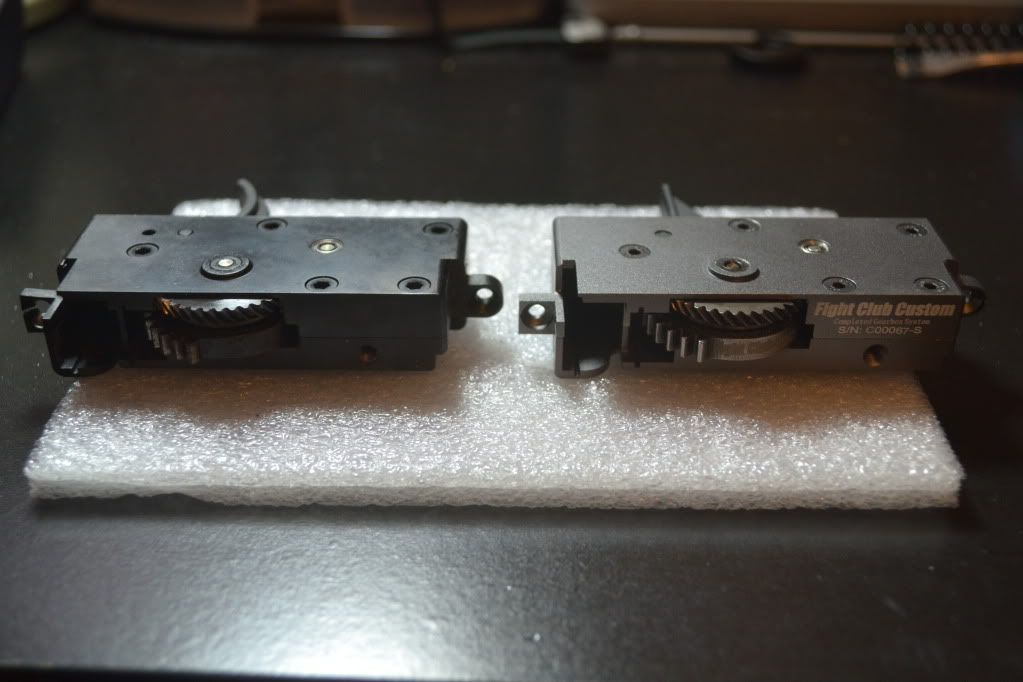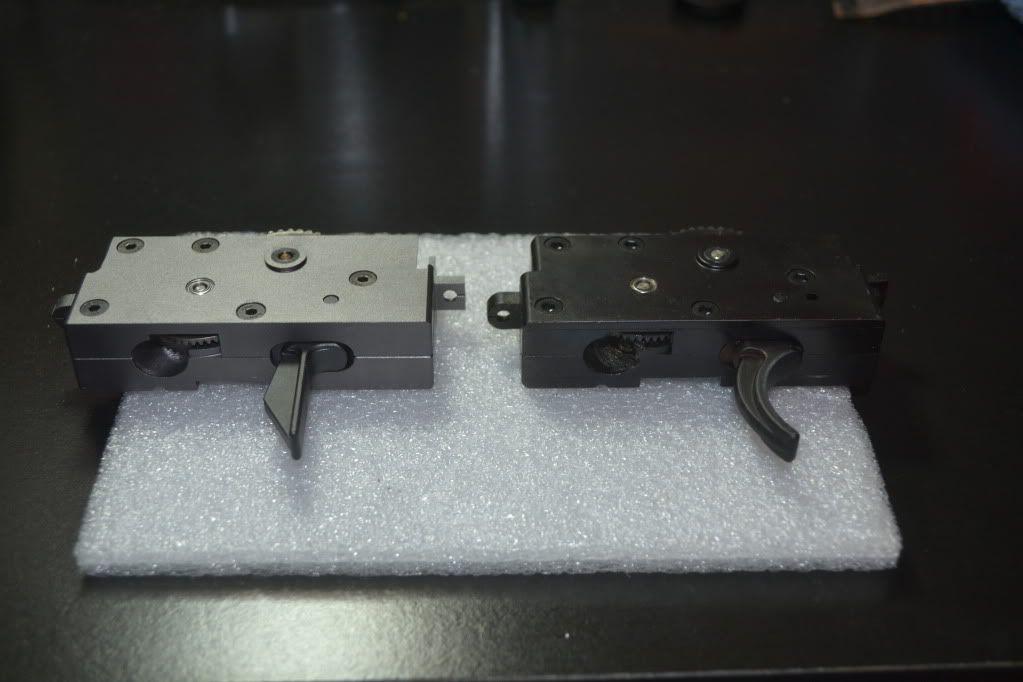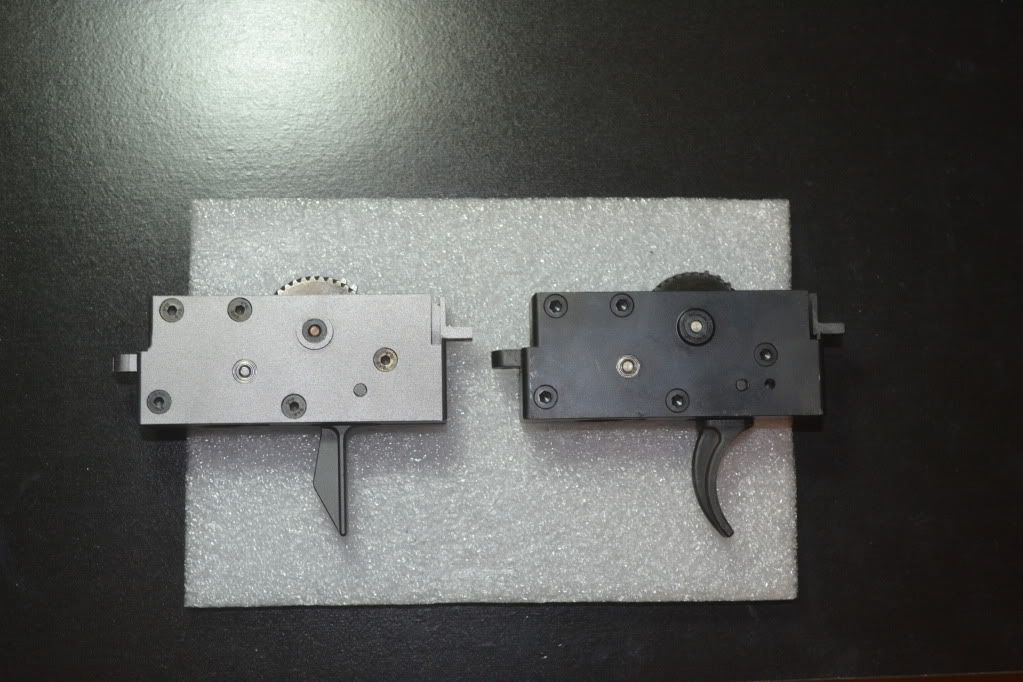 Installation
Starting off with a Systema OEM lower receiver, FCC's CNC gearbox fits in with some pressure from just your hands. It is a little tighter than an OEM gearbox for sure.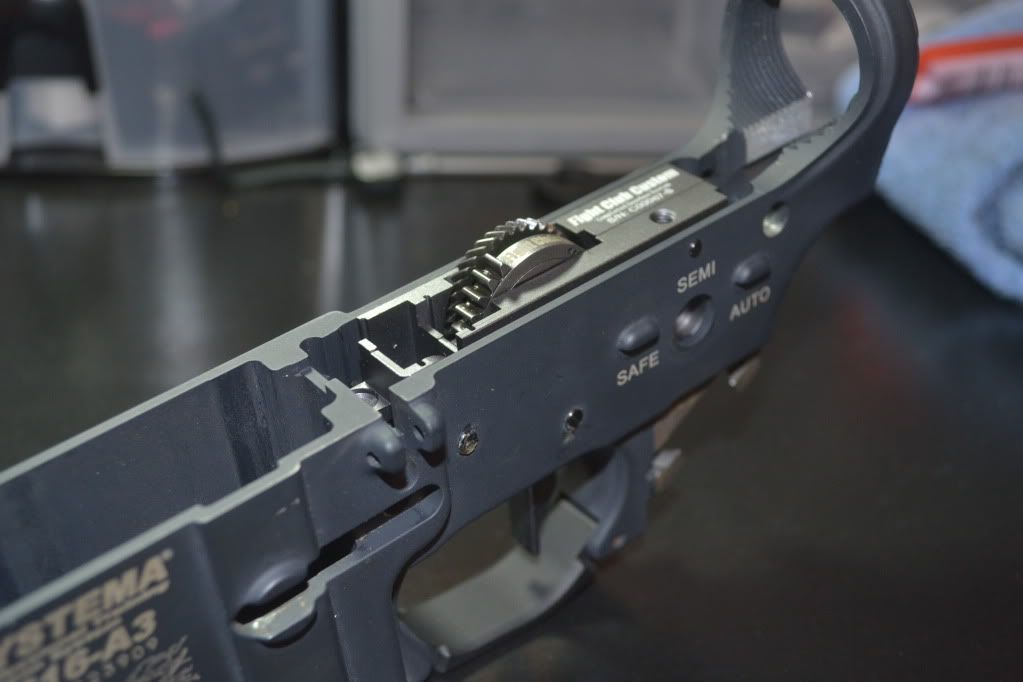 Next the electronics, every piece meshes perfectly with the FCC gearbox, the selector switch board clicks in nicely and the four prongs align perfectly and the CPU slides in with ease. No problem here.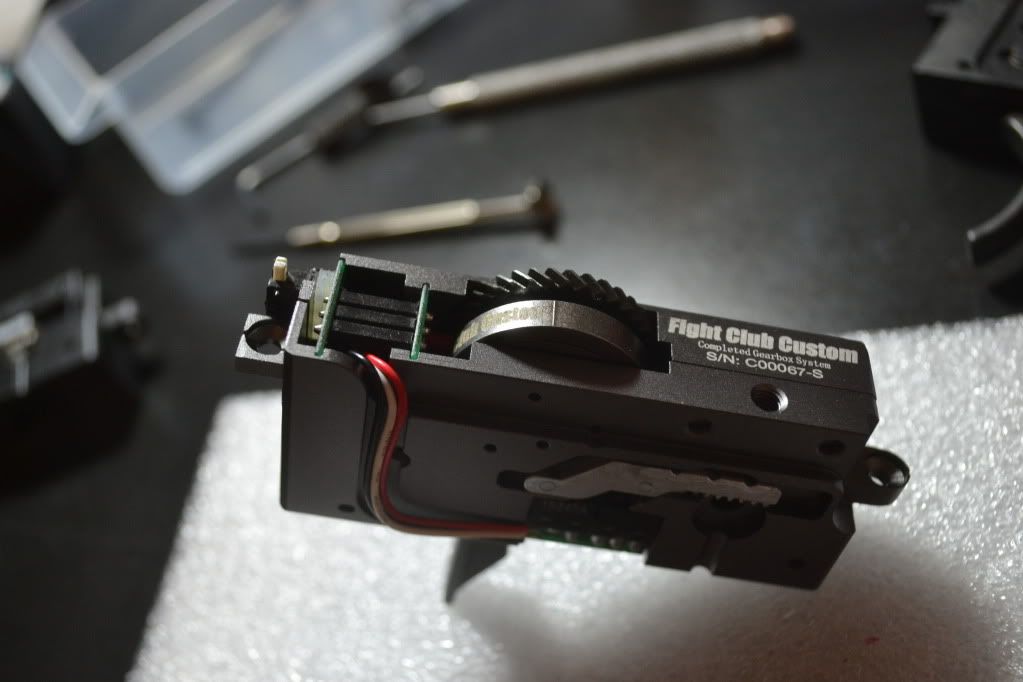 Installing it into my Prime lower was another story, the gearbox was very tight and pinched a small piece of the red wire from my selector board wires. When the gearbox was about 3/4ths way in I noticed and rushed to pull it out, I could not use my hands to get the gearbox out. Pushing upwards from the trigger, prying the sides of the gearbox where your two screws go wouldn't work. I had to remove my trigger guard, stick a punch right in the trigger opening and lightly tapped it out, took about 4-5 taps then the rest was to wiggle out. Check on my wire and reinserted the gearbox, on this part it was able to go in 3/4ths again and no wires pinching, I put a cloth over the top side of the gear box on the FCC logo and lightly tapped it in, about three taps with a regular hammer. Once in I could then connect the control cable to the CPU, wires tucked in nicely and reinserted the plastic strip over the wires. (This plastic pieces requires a little more push compared to with an OEM gearbox installed but still remains flush)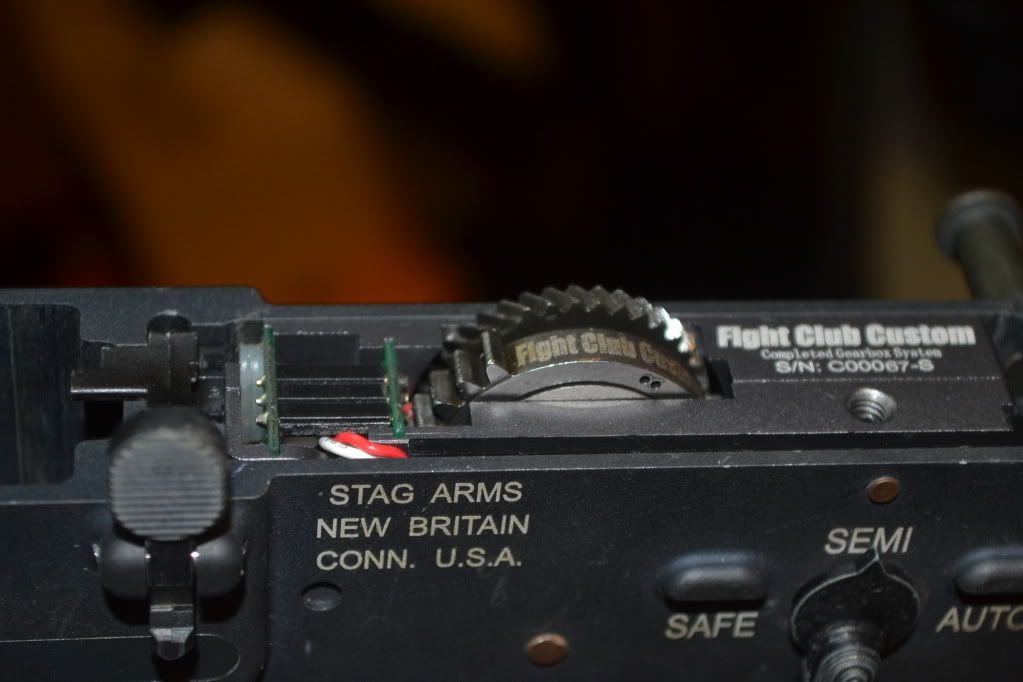 Selector Switch
This gearbox doesn't come with the small ball bearing, spring or set screw which holds you fire selector switch in place. You have to remove it from your OEM gearbox. Removing the set screw and spring is easy but removing the tiny ball bearing isn't, my trick was to get a piece of wire (had a Tokyo Marui G36 trigger contact wires on the side) bend the wire in an 'L' shape and push the ball bearing out. Be careful not to lose it!
Conclusions
FCC's CNC gearbox seems to be very promising in the long run, the finish is top notch, installation is VERY easy apart from fitting the gearbox into your lower and quality work compared to other companies. The race trigger is a nice addition and unique look. Though the price may be almost a fourth of the cost of a new PTW, you pay for high quality reinforced product from FCC. So far I am impressed by FCC and hope they continue to roll out more quality parts for our PTWs.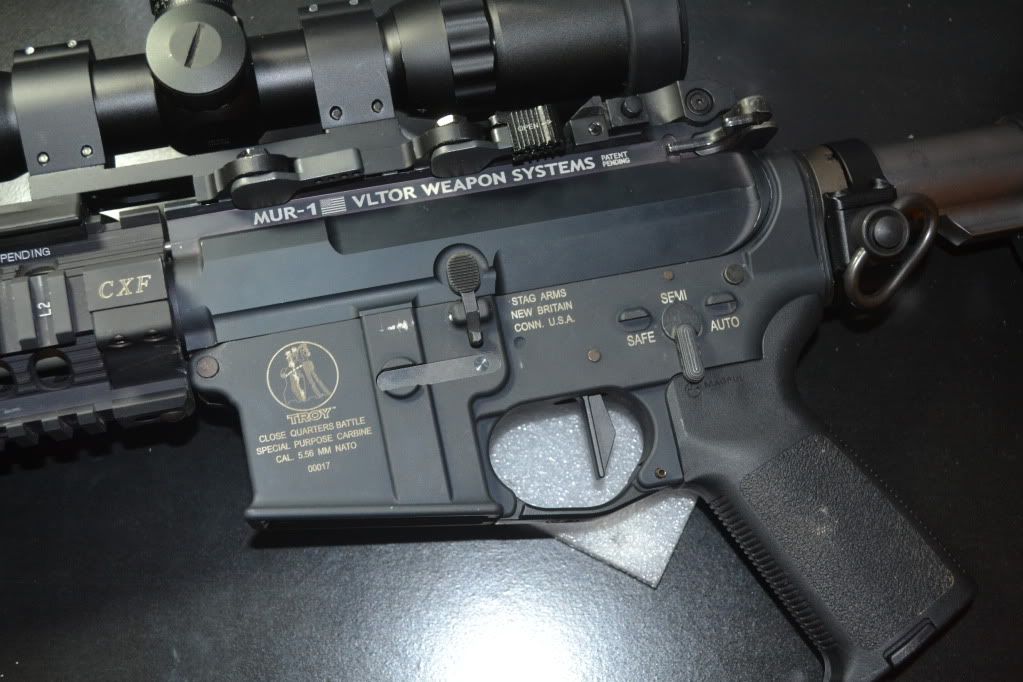 Feel free to ask questions and I will do my best to reply, thank you for reading!
Soon to come:
FCC Motor vs 480 and 490 Motors
FCC Mini MOSFET w/ Size Comparisons